David Wongso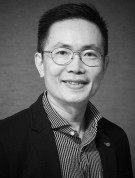 Indonesia
Fontana Office Tower, 17th fl. G 1
The Mansion Bougenville, Dukuh Golf Kemayoran
Jl. Trembesi Blok D, Bandar Baru, Kompleks Kemayoran


+6221 2260 6154

This email address is being protected from spambots. You need JavaScript enabled to view it.

David Wongso is an experienced search professional with 23 years' experience, finding leaders and senior level talents in financial institutions, conglomerates, multinationals, state-owned enterprises and recently rising Indonesian unicorns (e-commerce, digital corporations with valuations above 1 bio USD).

He has handled searches on Board Services, Financial Services, Pulp and Paper, Technology, Media, Business and Professional Services, FMCG, Pharma, e-commerce.

He is the founder and CEO of Davehunt International, a company with service lines in consulting and training. He believes the right leadership, culture and value determine success, all applicable at corporations, community and family.

Before joining TRANSEARCH, David was a recruiter for Citibank Indonesia, with many of the recruits now group heads and directors at many financial institutions and corporations. He hired 4 out 100 Indonesian top bankers according to INFOBANK 2017 report.

During his tenure at Asia Pulp and Paper, he led the initiatives of hiring GMs in Asia, Europe and US markets expansion.

David has been in leadership roles of organisation transformation, ERP implementation, regeneration, succession management especially in HR strategy, people, system, process, change management in 4 Indonesian conglomerates. He was an HR director, VP Human Capital and lastly board member at one of Indonesian companies listed at Indonesian Stock Exchange (IDX).

David has an MBA in General Management from Monash University and Magister Management degree from IPMI Business School. He is a psychologist graduated from University of Padjajaran. He attended INSEAD Executive Program, Singapore, on International HRM and Harvard Business School Executive Program, Boston, on Leadership Best Practices.

His interests are in the area of leadership, transformation, culture, and parenting. He was a Coordinator of Dads for life in Indonesia, training many community and business leaders, parents and teachers. He is an avid triathlete, staying fit with cycling, running, and MMA. David is fluent in English, Bahasa Indonesia and Chinese dialect Teochew. He is married with 2 children.
Specialisations