Alexandros Argyropoulos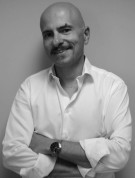 Greece
32 Kifissias Avenue, Atrina Center
Marousi, Athens, 15125



+30 210 68 29 055

This email address is being protected from spambots. You need JavaScript enabled to view it.

Alexandros Argyropoulos is an executive search consultant in the Athens office. He has multiannual and extensive consulting, training and coaching experience mainly in the areas of Salesforce Effectiveness, Leadership Development, Change Management and Emotional Intelligence, at different organisational levels and across various industries, such as Consumer and Retail, Life Sciences, Energy and Business and Professional Services.

Previously, he held managerial positions in Greek and international corporations such as ?.J. Maillis SA, Estee Lauder Group, and Apivita SA where he focused on sales, communication and global development. He is a member of the Hellenic Association of Group Analysis and Psychotherapy where he conducts professional as well as experiential groups; in addition, he has participated in several international conferences on group analysis.

He holds a BA in Political Science from the University of Athens and a Master's degree in International Relations as Fulbright fellow from the Fletcher School of Law and Diplomacy of Tufts University in Massachusetts, in cooperation with Harvard University. He is also a certified trainer in Zenger-Folkman's "The Extraordinary Leader" and "Extraordinary Performer" as well as Tracom's Social Style Model for Effective Communication and Collaboration.

Alexandros is fluent in English and French and has a fair knowledge of Russian.
Specialisations