Marc Eastwood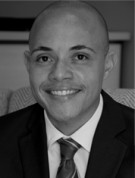 South Africa
100 Fourth Street, Parkmore
Sandton, Gauteng



+27 11 325 5486

+27 86 554 5613

This email address is being protected from spambots. You need JavaScript enabled to view it.

Marc is the Head of Operations and Strategy at the Johannesburg office. Together with the CEO, he provides strategic direction and keeps the company at the forefront of the Executive Search Industry. Marc also manages the firm's consultants to ensure they realise their potential and continue to provide the high quality of service they have come to expect.

Added to his portfolio is the development of the Executive Coaching Division which plans to cultivate human growth with leadership skills critical to their success.

He brings to the role a decade's worth of operations and business development experience in New York City, Cape Town and Johannesburg, much of it at the senior management and executive levels in both the non-profit and private sectors.

A Masters in Professional Studies (Arts and Cultural Management) graduate from the Pratt Institute in New York, Marc also holds a Bachelor of Science degree in Business Administration from Barry University Miami, Florida as well as certificates in Project Management and Executive Coaching, Conversations that inspire, Coaching Learning, Leadership and Change.

Specialisations