Clotilde Van Laethem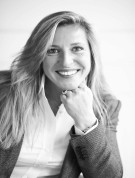 Belgium
303 Avenue de Tervueren
Brussels
1150


+32 2 711 44 70

This email address is being protected from spambots. You need JavaScript enabled to view it.

Clotilde is an executive search consultant specialising in the FMCG, Cosmetics, Automotive and Real Estate sectors. Prior to joining TRANSEARCH in Brussels, Clotilde was in charge of the business development of the cosmetics brand, Lancôme (part of l'Oréal group) for the Belgian and Luxemburg markets.

She gained significant experience in the automotive industry after having worked for 17 years in various management positions for European automotive brands like Renault, Volkswagen, Audi, MINI and BMW.

Clotilde holds a degree in Business Administration, Business Management and a postgraduate in Advanced Management and Automotive Management. In 2013, she obtained a Master in Human Resources from ICHEC.
Clotilde is fluent in French, English, Dutch and Italian.

Specialisations