Anjali Forbes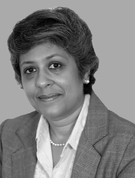 India
604/605 Keshava
Bandra Kurla Complex, Bandra East
Mumbai 400 051


+9122 2659 1807

+91 22 2659 1804

This email address is being protected from spambots. You need JavaScript enabled to view it.

Anjali is a Senior Partner with TRANSEARCH India and is based in Mumbai. Anjali leads the firm's Financial Services Practice.

She has a multi-functional background having worked for over 20 years across diverse functions with leading organisations. She joined TRANSEARCH after spending over 16 years with CRISIL (a company of Standard & Poor's) in senior positions in credit rating, research and information, capital markets, mutual funds and corporate advisory, and strategic branding.

In CRISIL, Anjali spearheaded many new initiatives, including setting up and building CRISIL's market leadership position in the research & information, capital markets and mutual fund businesses. In her last role as Director, Corporate Franchise & Market Services, she worked closely with the Group's leadership team in driving CRISIL's strategic branding and franchise initiatives.

Anjali started her career with ANZ Grindlays Bank as a Management Trainee and in seven years rose to manage the bank's key corporate lending accounts and corporate deposit portfolio in Mumbai. During this time she was seconded to Switzerland where she worked closely with the Bank's leadership team in managing the Bank's corporate lending portfolio and in reviewing the quality of the Bank's major private banking accounts.

Anjali has completed her Bachelor's in Commerce from Mumbai University, and has a Master's in Business Administration from the University of Rhode Island, USA.


Specialisations